Conor Ashleigh – photographer
Mazie Turner was more than just my creative mentor; she was a friend, an aunty, a collaborator and above all one of my greatest inspirations. Since passing away in 2014, Mazie has never been far away.

This January I made the most of a summer in Australia and headed north on a road trip. I visited Mazie's two eldest granddaughters Mali and Lily, both of whom I had often photographed a decade ago as part of my project Baby in a Chapel. I was amazed to see how Mali and Lily had grown and flourished in the seven years since I saw them last. Mali was entering her final year of high school, and she had become a talented and articulate young woman.

That evening, as Mali and I sat down to catch up, the conversation almost immediately turned to her grandmother, whom we talked about for hours into the early morning. We cried a lot as I shared many Mazie stories that regularly cycle through my memory.

It was getting late and our tears had mostly dried [when] Mali finally asked me, 'Am I like her?' To which I replied 'Yes, of course you are and in time you'll also be able to see.' Mazie will always live through me in how I strive to live, create, and treat others. Soon enough, this will be Mali and Lily too.
Mali Tipping – family friend
My grandmother Mazie Turner passed away in June 2014, she was 59 and I was 10. The night that Conor came to stay with my family, I was not expecting to be invited back into memories that grief had long since buried.

Listening to Conor reflect on his deep friendship with Mazie allowed me to see my grandmother in the fullness of her character, as if I was wiping a steam-stained window to see her clearly for the first time. My grief until that night had been shrouded in a surreal fog, nothing to grasp, everything landing too far from my reach.

The next morning Conor offered to take a picture of my little sister Lily and I, and despite my own reservations – being 17 and far too cool to be photographed – I accepted. Stories and photographs are how we keep our loved ones near, how we remember them and it is the greatest gift to be allowed into a memory that you thought was gone, to see someone's face and hold their hand once more.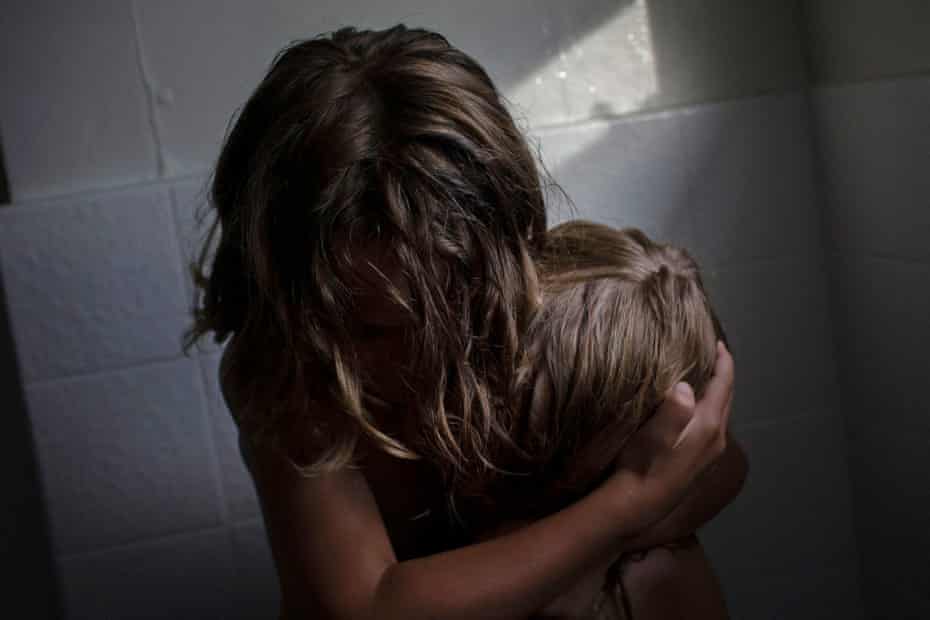 David Maurice Smith – photographer
All the cliches materialised when I became a parent. It simply changed everything for me. My sons are at the centre of everything in my life. I find that I am obsessive at times about making pictures with them as the desire to freeze time and capture memories is intensified by the speed at which they are evolving. I look at pictures that are only months old and they have sentimental value already as I notice the smallest of changes.

Our relationship has many faces. It is my job to love them unconditionally, but that is the easy part. Teaching them, guiding them, holding them accountable, creating boundaries, supporting them while letting them fail and learn…there is no guide book and it can be amazing and heartbreaking at the same time. It is a ride.
Kobe and Parker – sons
We love each other and have fun.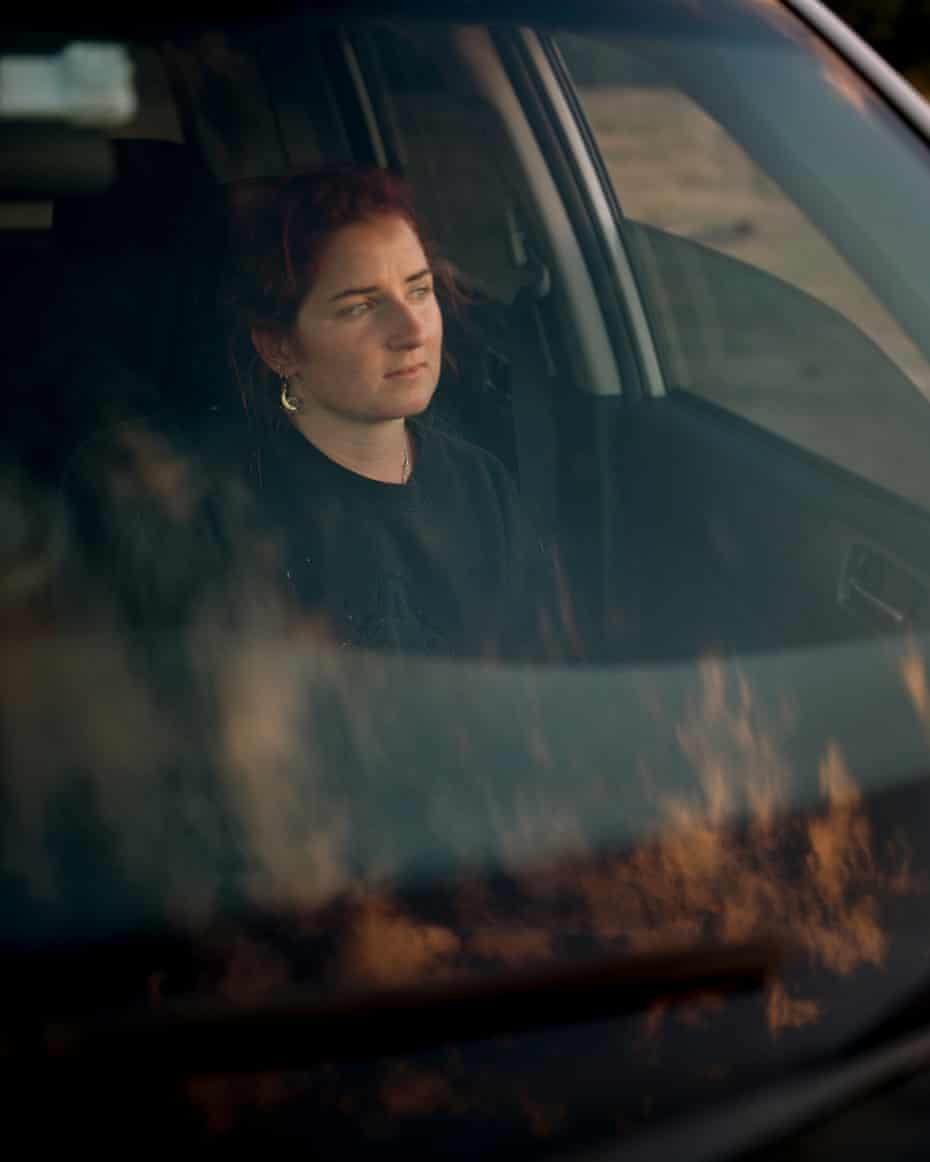 James Bugg – photographer
We drove down to the lake bed, the sun was setting over Eildon. Nicky and I had spent most of the year together, our first year together. She grew up in this water, spending summers swimming with her sisters and eating ice cream for breakfast at their grandpa's house. They'd lost him a few weeks earlier and had said their goodbyes through glass.

We had come up to the lake again as soon as the restrictions eased. In a year where movement was limited, we had made the most of our opportunities. There was something so soothing about driving to somewhere else and talking about everything together. The moon sat in orange clouds and the water was still as I sat on the bonnet and made this photograph of Nicky.
Nicky McMullin – partner
James and I left Melbourne during stage four lockdown. It had been a pretty mundane, rinse-and-repeat period of time as I was working shift work at the hospital and James was unable to work. The only thing which was stable, grounded and calming was our relationship and our combined love for our new dog Nessie.

Stressfully we pass through the checkpoints as my funny old bugger grandpa Bill departed from this earth, leaving my heart shattered. We went to the high country, where Bill called home for his life.

We both sat down looking out over Lake Eildon, below the special tree, thankful that we had each other. This photo reminds me of the relief and torture it was to watch my Bill pass away through a window. The lake is still, the sun is on my face, which is how we would spend our afternoons as kids with Bill. This year [was] a whirlwind, chaotic and trying at times, but what kept me grounded was coming home from [the hospital] knowing James was there, present and supportive.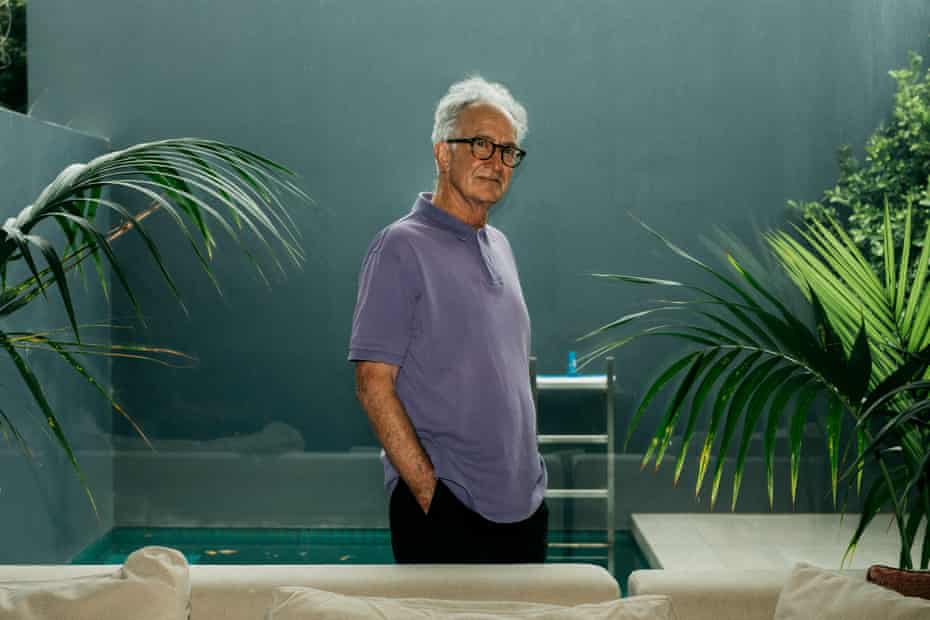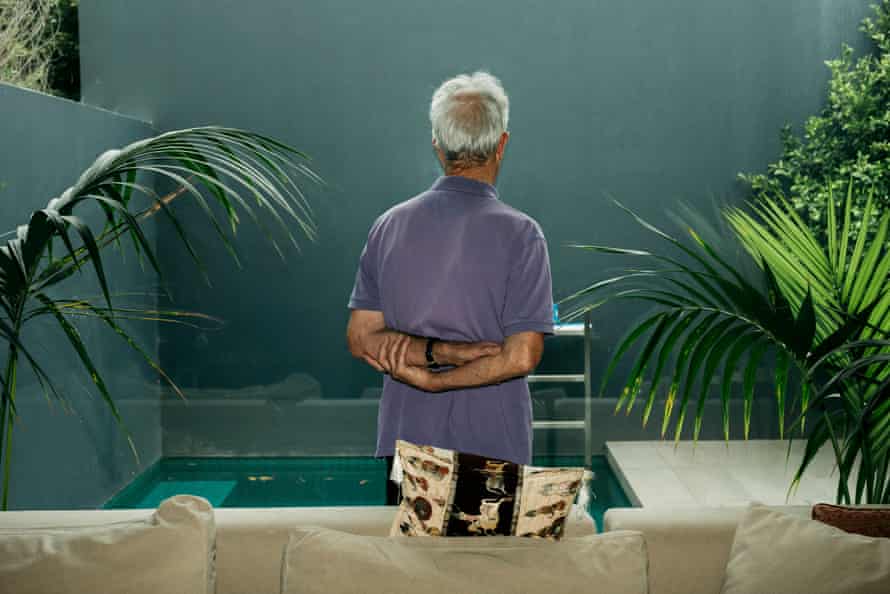 Abigail Varney – photographer
A man between two Kentia Palms, vintage Gazman, glasses model's own. Dad got these palms in Lord Howe island, his favourite place on earth. [It] makes it the yearly panic for me, as he usually forgets to tell me he's planning to visit the island without phone reception.

Apart from LHI, golf, gardening, writing and painting, Dad is a keen hobbyist photographer. A lot of our communication is through sharing a newly flowering orchid, the wonders of afternoon light, his bike against the sea, shadows and reflections, Sunday spaghetti on the boil. I spent much of the lockdown going through his old slide collection from his beloved Pentax Spotmatic c.1973. Piecing together Dad's life mostly before pandemics, medical careers, kids and obligation in general. I scanned a shows-topping selection and made them in to a book for him for Christmas.
William Varney – father
The beginner couldn't tell. But the mild-to-moderately gifted amateur (like this writer) can appreciate the difference between their efforts and the work of the professional. This observation applies to the quality chasm between my photography and Abi's.

Abi is my youngest child. She will always be a curly-haired bundle of energy, mirth and mischief. In many ways, her work has the unbiased eye of a child. Her photos of places have atmosphere and being-thereness, her portraits reveal their subjects' personality and spirit. Light, shade and colour employed skilfully and artistically. But most of all, her pictures are overflowing with emotion, intimacy, familiarity and life.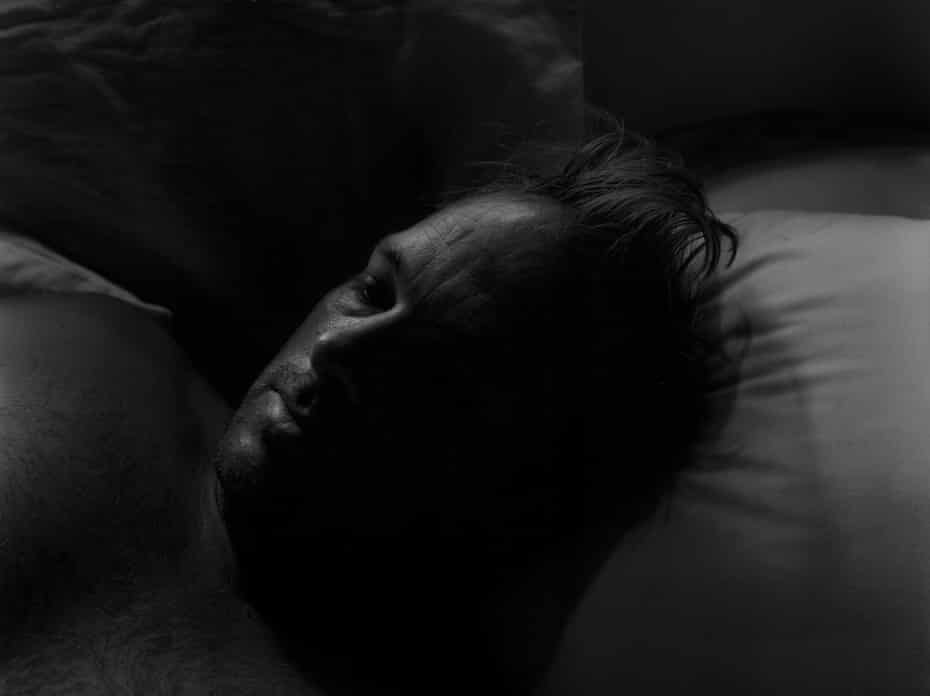 Aishah Kenton – photographer
Despite the current uncertainty in the world, I am fortunate to have something certain in my life. We've been together now for nearly five years, and we have just celebrated our second wedding anniversary. This is my husband Sean. In a time when so many things are unstable, to have someone to hold onto, in life, love and photography is something I treasure, especially in that I am separated from my family who live overseas.

I never tire of photographing Sean and our life together, and his partnership, support and love inspires me to continue. There is a softness in Sean when we are alone together. He is confident but, in quieter moments, he is introspective and can have a lot of personal doubt.

I hold onto photographic moments like this as they speak to me of his self-reflection and the important role it plays in how we move forward together. Moments like this allow me to take stock of our life and to consider our place in it. What are we truly about? What is important to us?This portrait answers both these questions for me.
Sean Davey – partner
I am more whole now, as if something inside of me has changed. Aishah has a calming effect on me and, without a doubt, she is the most sincere and caring person I know. She never forgets a date nor fails to bake a cake for a friend's birthday. 'It's the small things that matter,' she says.

Aishah is a voracious reader, and she is particularly interested in literature written by women and people of colour. My understanding and awareness of my own privilege has increased exponentially since meeting her.

Having grown up in different countries and in different cultures, it amazes me how similar we are. Aishah never gets bored and that to me is a wonderful testament to her character.

Aishah's parents live in Malaysia, and her father works in Singapore where he has been stuck since March 2020. Due to travel restrictions, the family hasn't seen each other for almost a year; three people locked in three different countries. Being unable to be with them can be extremely painful for her. Seeing this imposed separation up close, I now take much fewer things for granted.