The COVID-19 pandemic has taken an unfathomable toll on people around the world. There have been nearly 120 million coronavirus cases and more than 2.6 million deaths worldwide. We all know friends, colleagues, family members and neighbors who have been impacted, and my thoughts are with everyone who has lost someone to the virus. It has been a profoundly challenging time and I am optimistic that the tide is turning as vaccine rollout ramps up.
At the same time, the impact of the pandemic is not limited to human health alone. The pandemic has dramatically increased the use of certain types of plastic products, notably personal protective equipment (PPE) but also single-use plastic bags, food and beverage containers and other single-use plastics that can harm our communities and the ocean and result in significant waste management challenges.
And Ocean Conservancy knows from decades of experience: increased use of single-use plastics translates into more plastics in the ocean.
Never miss an update
Sorry, but we failed to add you to the list. Please try
again or contact 1.888.780.6763
…loading
Thanks for signing up for Ocean Conservancy emails.
<!– –>
Volunteers with Ocean Conservancy's International Coastal Cleanup started tracking the amount of PPE they were finding using the Clean Swell app a few months after the pandemic reached the United States. We are grateful that so many volunteers were able to safely conduct a cleanup during the pandemic by practicing social distancing and using PPE. Their incredible efforts show how the pandemic is contributing to the problem of plastic pollution and are detailed in our new report: Pandemic Pollution: The Rise of Plastic PPE.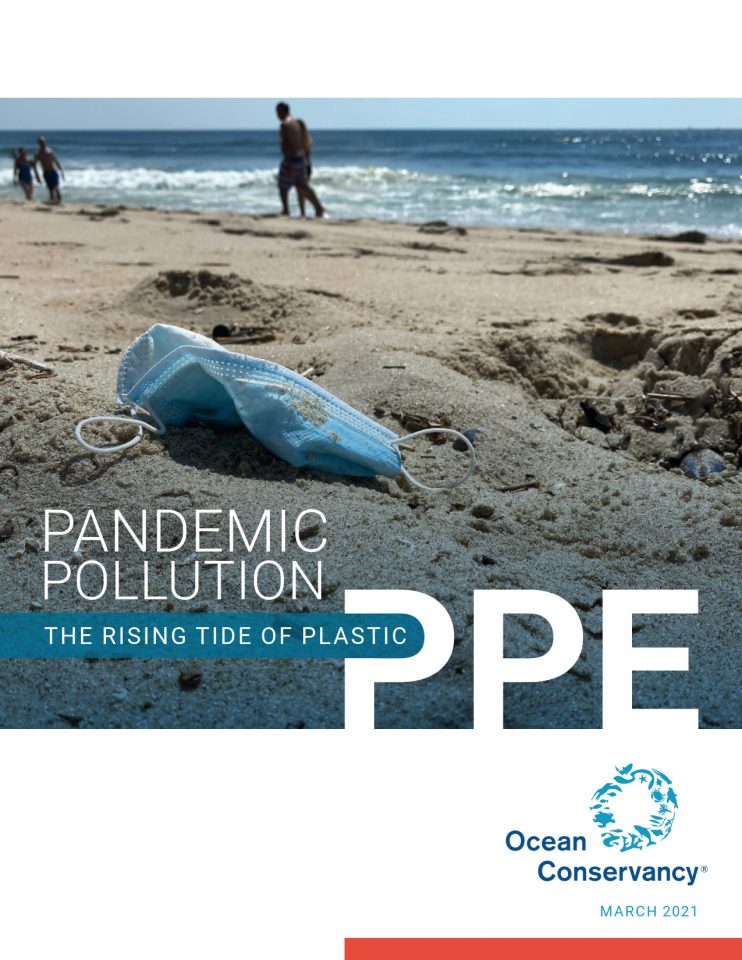 The report shows that between late July and December 2020, volunteers collected more than 107,000 pieces of PPE from beaches and waterways around the world, and this is likely a vast undercount of what was and remains out there. For example, we know that many volunteers recorded PPE under the "Personal Hygiene" or "Other Trash" categories in our database. In fact, the amount of personal hygiene litter recorded in the app between January and July 2020 was three times higher than what was recorded in that same time period for each of the previous three years despite significantly lower participation levels due to the pandemic lockdowns. Meanwhile:
94% of more than 200 ICC volunteers and coordinators surveyed reported observing PPE pollution at a cleanup in 2020
Nearly half of the surveyed volunteers reported that a vast majority of the PPE (75%+) was single-use/disposable
More than 80% of survey respondents identified face masks as the most common form of PPE they encountered
37% of survey respondents reported observing PPE submerged in bodies of water
These numbers lay bare just how steep the toll has been on our waterways, shorelines and our ocean. The good news is that we can ALL take action. Our report outlines a number of simple recommendations for businesses and individuals, like ensuring adequate disposal receptacles in places with high foot traffic (like grocery and other retail stores), snipping the ear loops of face masks to lessen entanglement risk to animals and conducting solo or socially distanced cleanups in the community when possible. And it includes policy recommendations for federal, state and local governments, too, including passing the Break Free From Plastic Pollution Act that was reintroduced just last week. It's a comprehensive and ambitious piece of legislation that hits all the most important policy levers available to tackle the ocean plastics crisis—from reducing our reliance on single-use plastics to mandating recycled content minimums and holding producers accountable for the waste their products generate. We hope you'll join us in voicing our strong support for the Break Free From Plastic Pollution Act.
We all have a role in preventing plastics from entering the environment in the first place. We can do this while staying safe and focusing efforts to ensure PPE and other plastics are responsibly managed.
never miss an update
Sorry, but we failed to add you to the list. Please try
again or contact 1.888.780.6763
…loading
Thanks for signing up for Ocean Conservancy emails.
<!– –>
The post Assessing PPE Pollution's Impact on the Ocean appeared first on Ocean Conservancy.