SoHo stands for south of Houston and is a world-famous shopping paradise and artist district in Manhattan, NYC. Bordered by Houston Street, Lafayette Street, and the western part of Broadway, you'll find a lovely, bright part of the city that has become world-renowned, in part due to the fact that it has been a backdrop for so many films and commercials.
Contents
Is SoHo worth visiting?
This NYC neighborhood is, without hesitation, absolutely worth visiting. It's filled with a variety of shopping stores, art galleries, restaurants, and the cast-iron architecture which SoHo is known for is always great to look at. Aside from the many shopping opportunities, it's also the neighborhood for many celebrities and figures.
A lot of them stay in this area when they visit New York City. For example, Rihanna was spotted staying at the Mercer Hotel. On any given day, you're most likely to spot a celebrity or a model if you look hard enough. Actually, you might even walk by one and not even notice. Because of its popularity and demand, Soho is one of the most expensive neighborhoods in the city.
Our top 5 things to do in SoHo
SoHo is famous for so many reasons. There are a bunch of attractions, stores, and restaurants that it can be overwhelming especially if it's your first time visiting. It's a popular neighborhood and is very busy throughout the whole year. Here's a list of what we highly recommend.
These are the attractions worth checking out in Soho

01

SoHo Shopping

Other Shopping
in
SoHo

Broadway is probably one of the most well-known streets in NYC, and also runs right through the center of SoHo. Many big-name shops have their flagship stores right here on this street. Broadway is not only the longest street, but it is also the heart of shopping in SoHo. You can find your mainstream stores such as Uniqlo and H&M. You can also try your hand with boutique shopping in SoHo. These stores curate their selection so it matches their brand identity and it makes for a better shopping experience.

02

New York City Fire Museum

Museum
in
SoHo

The former firehouse was reconstructed into a museum filled with three floors of New York City Fire Department history. Built-in 1904, the NYC Fire Museum cares for over 10,000 objects as well as archives, ephemera, and photographs that celebrate the history of the New York City Fire Department. You will also find a permanent memorial to the 343 members of the FDNY-EMS who lost their lives in the World Trade Center attacks on September 11, 2001. This museum is great for kids as younger friends of the FDNY are invited to try on an original firemen suit and can learn all about how firemen extinguish a fire. Daily hours are 10 am – 5 pm, with an entrance fee of $8.

03

Museum of Ice Cream

Other Art & Culture
in
SoHo

Located at 558 Broadway in SoHo, the Museum of Ice Cream features 13 all-new interactive art installations across 25,000 square feet over 3 floors. Besides multi-sensory installations, it boasts the biggest sprinkle pool to date. With exhibits like these, the Museum of Ice Cream NYC is not your traditional museum. If you're a family with children,it's really worth visiting the Museum of Ice Cream in SoHo.

04

Cast iron architecture

Other Attraction
in
SoHo

During the industrial revolution, cast-iron architecture was very popular as everyone was convinced that iron was much more substantial and fireproofed than steel. At the time, cast-iron fronts were built more often than normal wooden houses. These typical cast-iron buildings are the reason why so many producers decided to shoot their films or commercials on the streets of SoHo. The fire escape staircases along with the architecture give the neighborhood its unique look. These beautiful buildings belong to SoHo similar to how yellow cabs belong to NYC.

05

Jimmy at the James Hotel

Rooftop Bar
in
SoHo

From 5 pm onwards Jimmy at the James provides one of the best views you can get of downtown NYC. This rooftop bar in SoHo has some great drinks and nice seating areas. If you're in the mood for a cocktail, make sure to visit the Jimmy at the James Hotel. If you get here by sunset, the views will be even better. We consider Jimmy at the James one of the top 10 bars in NYC.
What else is there to do in SoHo?
SoHo NYC is filled with a bunch of activities and events. There's always something going on here. Our top 5 above are things we highly recommend but to be honest that list doesn't stop there. There's something for everyone in this wonderful neighborhood. Depending on the time of the year, SoHo can be filled with seasonal pop-up shops or activities on the street. If you're into photography, this is a great place to photograph as well. Here are some more things to do in SoHo.
Keep an eye for pop-up events
As we mentioned above, depending on the time of the year, SoHo hosts numerous pop-up events. The latest one we went to was the popular Friend's Pop-Up.
Explore SoHo with a camera
If you're big into photography, then make sure to bring your camera to this neighborhood. SoHo fashion is some of the best fashion in the country and the art scene is top-notch as well. If photographing people isn't your thing, then you also have the option of shooting the cast-iron buildings.
The Drawing Center in NYC is a SoHo museum that focuses on historical and contemporary drawing and is one of the best things to do in SoHo since its opening in 1977.
The Film Forum in SoHo/Greenwich Village is a non-profit theater that's known for showing independent flicks. If you're a big movie person, this place is for you. The theater opened in 1970 and is an iconic spot.
Ride your bike around SoHo
If your time is limited and you want to check out as much of SoHo as you can, then we recommend just taking a bike. You'll be able to see the many cobblestone streets, the art, and many fashionable people. It's a lot to take in but definitely worth it.
Best tours and activities in SoHo NYC
NYC is filled with many tours and a lot of them pass through SoHo. Whether it's a movie-walk or just a general sightseeing tour, this part of NYC will most likely be involved. The neighborhood is known for its stores, people, fashion and is part of pop culture. Below are some of our favorite SoHo tours.
Where can I eat in SoHo?
SoHo is filled with many restaurants, cafes, and bars and the majority of them are very popular. You'll have an array of dining options here such as Balthazar in SoHo, Jack Wife's Freda, and the famous Dominique Ansel Bakery on Spring Street. There's literally a place to eat in every corner of the neighborhood. Below are the places we have tried and recommend.
The best SoHo restaurants
Trendy and hip restaurants in SoHo NYC can be found scattered throughout the neighborhood. Fine dining and more up-scale restaurants in SoHo are perfect for a date or an anniversary.
Cafés in Soho
If you don't want to necessarily dine-in, you can always check out some SoHo cafes. There are artisanal tea and coffee shops and bakeries throughout the neighborhood and are great places to visit for a quick break.
Bars, Pubs & Rooftop bars in SoHo
At the end of the day, if you're looking to relax and unwind, SoHo is also filled with amazing bars and pubs. Make sure to visit Jimmy at the James, which is a popular SoHo rooftop bar where you'll get an awesome view of the skyline and exceptional atmosphere.
SoHo Stores: Shopping in SoHo
Because of the high number of designer stores in SoHo, this district quickly became one of the most famous places to live and arguably the number one destination for shopping in New York City. If you're looking for the latest trends, creative and stylish fashion, then make no mistake about it, this is the neighborhood to go to. You can also find well-known stores such as:
Victoria Secret (593 Broadway)
Zara (580 Broadway)
Adidas Originals (115 Spring Street)
H&M (558 Broadway)
Nike (529 Broadway)
Top Shop (478 Broadway) (CLOSED)
Louis Vuitton (116 Greene Street)
Prada (100 Prince Street)
Moncler (Prince Street)
All Saints (512 Broadway)
We also recommend checking out the Converse Speciality Store as well. They have good deals for our favorite casual Converse shoe and they have a "design your own Converse" corner where you can be creative and are able to decide how your shoes should look like.
SoHo also has a famous brand called Woolrich (125 Wooster Street). You can buy your warmest winter jacket here for 20% less compared to its European stores. A little further down Spring Street, Mercer Street and Prince Street, you will find the Apple Store (103 Prince Street) and the Michael Kors Store (101 Prince Street) with more stores to satisfy your needs.
The best Boutiques in SoHo
In addition to mainstream stores, boutiques in SoHo are cleverly curated shops that cater specifically to their customers. Boutique shopping in NYC is a great way to find unique pieces that you won't necessarily find in bigger department stores. SoHo invites you to discover little creative shops, ran by young New Yorkers who sell their handcrafted products.
SoHo, New York is a lot more than just the big names of fashion magazines. Narrow alleyways, side streets, and sales carts on the sidewalks have a variety of special gifts and memories that you can purchase for a great deal.
Your SoHo shopping experience will be a memory that you'll never forget, that's for sure. Our personal tip – check out the MoMa Design Store on Spring Street. New York City has a lot of MoMa stores, but we think the one in SoHo is the best one.  Another tip – visit SoHo during the week because the weekend can be really busy.
SoHo Art Scene: The best galleries in SoHo
For the longest time, SoHo has been a key element of the New York art scene. Because of extremely high rent prices in the area, most of the galleries have now moved to areas like Chelsea. However, SoHo still offers great art galleries that you can visit if you're interested in it.
One of the best galleries in SoHo is the Drawing Center on Wooster Street. They recently extended the space by another 50% making it even more worth visiting. Some other interesting galleries are 287 Spring (287 Spring St) or Team Gallery (47 Wooster St). During your walk around SoHo, you'll see many other spaces that could tickle your fancy.
What are the best SoHo hotels in New York City?
Staying in SoHo has many advantages. You'll always be surrounded by some of the best atmosphere, bars, restaurants, cafes, and shops in NYC. If you decide to stay in the neighborhood please check out these amazing hotels.
Our favorite SoHo hotels

01

The Dominick Hotel

in
SoHo

The Dominick Hotel was formerly known as the Trump SoHo Hotel but that place dissociated itself from the organization back in 2017. It's located right in the neighborhood and the train stations are right down the block. SoHo shops, restaurants and bars are all walking distance from the hotel. If you'd like to stay in SoHo, then The Dominick Hotel would be our first choice.

02

The Mercer Hotel

Hotels & Accommodations
in
SoHo

The Mercer Hotel is probably the most famous hotel among celebrities. You'll most likely see a group of paparazzi waiting outside of the entrance waiting to capture someone famous. It's also a great place to stay because it's located in the heart of SoHo. You'll have access to high-end stores, you'll be a block away from Broadway and there are many restaurants within walking distance such as The Mercer Kitchen. Walk down a little further and you'll run into 12 Chairs. This hotel is a little pricey, but if you have the budget and want to be in the heart of SoHo, then The Mercer Hotel is perfect.

03

Hotel Hugo SoHo

Hotels & Accommodations
in
SoHo

Hotel Hugo is located right is right on the border of SoHo and is very close to Greenwich Village and Tribeca. The hotel was designed by architect Marcello Pozzi and is a successful combination of industrial design and fine art. The rooms are amazing and the hotel is equipped with a rooftop bar called Bar Hugo. If you're ever hungry, you can dine in their restaurant called Azul on the Rooftop. Hotel Hugo is great if you want to stay a little bit away from the crowds.
Our Perfect Day in SoHo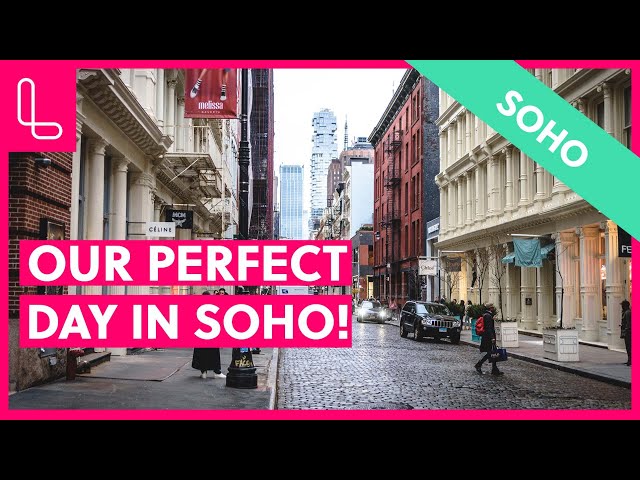 Like we mentioned before, SoHo can be very overwhelming since there is so much to explore. It can be difficult where to start first and there are just so many things to do in SoHo. It's impossible to see all of SoHo in just one day. However, if you follow this recommendation, we can assure you that your visit to the neighborhood will be smooth and fun.
Have breakfast at 12 Chairs – This restaurant serves Israeli breakfast and is popular among the locals. 12 Chairs is one of our go-to SoHo breakfast spots and have always been exceptional. (56 MacDougal St, New York, NY 10012)
Check out the amazing cast-iron architecture – SoHo is known for its amazing cast-iron architecture. It's everywhere in the neighborhood, especially along Broadway. (Broadway and Prince St.)
Go shopping on Broadway – This street is filled with many stores and boutiques. You'll find our favorite vintage store, Vintage Twin along this street. (Broadway and E. Houston)
Have lunch at Mercer Kitchen – Mercer Kitchen is located right next to The Mercer Hotel and is a great place to go for lunch. (99 Prince St, New York, NY 10012)
Visit the NYC Fire Museum – Learn the history of the New York Fire Department. The NYC Fire Museum is great for families with children and worth the visit. (278 Spring St, New York, NY 10013)
Grab coffee and pastries at Dominique Ansel Bakery – You've probably heard of the infamous cronut. That originally started at Dominique Ansel Bakery. When they first came out, it was almost impossible to get one because it would sell out right away. (189 Spring St, New York, NY 10012)
Enjoy a cocktail and amazing views at Jimmy at the James Hotel – As the day comes to a close, this rooftop bar in SoHo is a perfect place to grab a cocktail. Enjoy the Manhattan skyline during sunset as well! (15 Thompson St, New York, NY 10013)
Nearby Neighborhoods
SoHo is an amazing place to visit and is one of the best places to visit in Manhattan. It's definitely an area that tourists should check out. Once you're finished with SoHe make sure to swing by the nearby neighborhoods below.
How do I get to SoHo?
Commuting to Soho is pretty simple. there are multiple trains that you to the neighborhood. You can take the R W to Prince Street. The B F M and to Broadway/Lafayette, or the 6 to Spring Street Station.
Similar Neighborhoods to SoHo NYC
If you enjoyed SoHo, below are similar neighborhoods that we think you'll enjoy. Also, if you'd like to check out the areas with a  guided tour, make sure to look into our favorite walking tour of Little Italy, Chinatown and SoHo.